What is the bus ministry?
The bus ministry is a tremendous soul winning tool and many hundreds of lives have been changed for eternity because of the compassion and effort of God's people. We are very thankful to be given the privilege to serve our community and their needs through the bus ministry.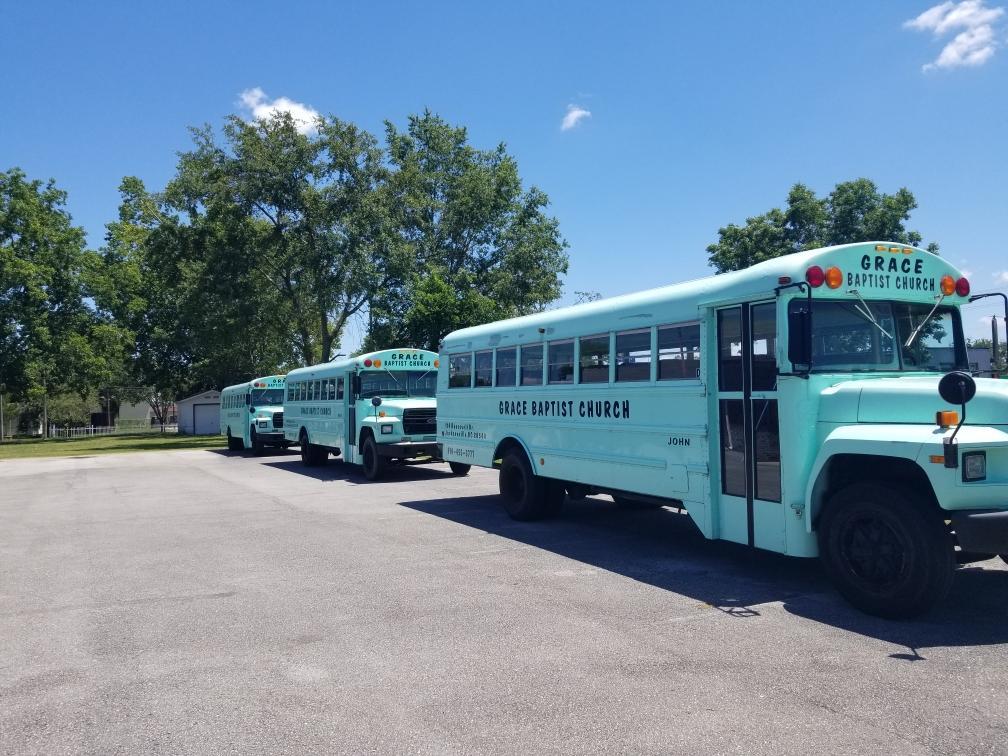 What happens on a typical Sunday on the bus routes?
Grace Baptist Church has been bringing in boys and girls on the "ol' green buses" for the past three decades. Each week, children are picked up from all over the community at their homes and are brought to church. Moms, dads, grandmas, aunts and uncles are invited to ride too! Whether 4 years old or 74 years old, all are welcome to come! On the buses, the riders will participate in a fun program including Christian songs, games, contests with prizes, Bible lessons, etc. Something different and fun will happen nearly every week on the buses! After they arrive, we take them to age-appropriate Sunday School classes where they learn the Bible and its impact on our lives today. Following Sunday School are church services that include the main auditorium service and three different children's services where they hear sound preaching from the Word of God. .
Does the bus ministry really matter?
ABSOLUTELY! It has made a difference in the lives of thousands all across the country in churches of like faith. Many people are in church today and serving God as a result of the bus ministry including many missionaries in foreign countries and pastors today who were first found on the bus routes and brought to church. Praise the Lord for the BUSES! The lives of these little ones can be greatly impacted through the wonderful bus ministry. Jesus said in Matthew 19:14, "…Suffer little children, and forbid them not, to come unto me: for of such is the kingdom of heaven."